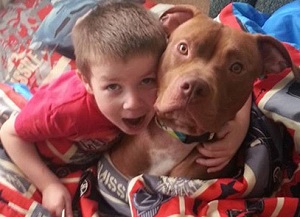 TatorTot, a 10-month-old rescued Pit Bull, was only in his foster home a week when he saved the life of the family's young son, securing him a permanent place in the family's hearts – and their home.
Christi Smith took in TaterTot from the Minneapolis Animal Care and Control, planning to foster him until she could find a family for him. But she immediately noticed a sweet bond between TaterTot and her four-year-old son, Peyton, and began to think maybe the dog would be a good fit for her own family.
Four nights after TaterTot came to stay, Peyton woke up in the middle of the night for a drink of water and was acting odd. "He just seemed kind of weird," Smith told FOX 9 News. "He wasn't really coherent." She figured the boy was simply very tired.

Click here to read the complete story.