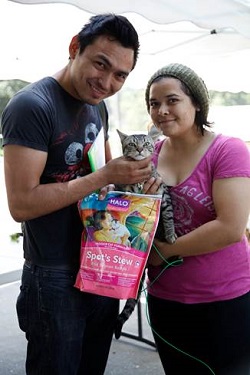 Pets for Life Los Angeles celebrated a Community Outreach Event at Hollenbeck Park in East LA on June 7th by arranging FREE spay/neuter appointments for community pets. Freekibble.com donated 6,000 meals of Halo Spot's Stew to the event.
This was just one of the 2014 successful events! Only about 15% of pets in under-served communities are spayed or neutered. When Pets for Life takes the information and services directly to these communities, they are able to spay or neuter around 70% of unaltered pets.
Amanda Arrington, Director of Pets for Life sent us a thank you and these wonderful pictures from the event.
Pets for Life builds humane communities using innovative strategies and fresh approaches designed to extend the reach of animal services, resources, and information to under-served areas. Addressing the critical need for accessible, affordable pet care, our program helps animals by empowering the people who care for them.