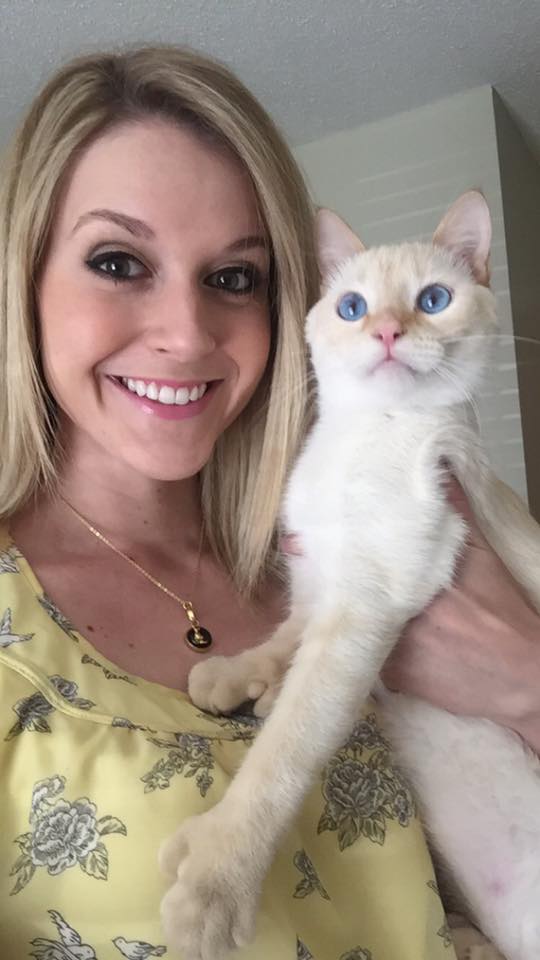 Halo Facebook Fan Mary Neuendorf from MN shared with us her story about her cat named Dexter and his Halo natural cat food experience. She says:
This is my sweet boy named Dexter!
"I wanted to leave a post to say THANK YOU HALO, and I'll explain the reason why.
I rescued Dexter back in October from an amazing No Kill animal shelter named Lucky's Place. When I first got him home, he had a couple of loose stools, which I thought was normal because he was in a new environment. 
Well a couple of weeks passed and he still had loose stools, and was throwing up just about every morning. I got very concerned and took him to the vet and they said he just had worms. After giving him the dewormer, I was hoping that would clear everything up. Turns out, he still was having loose stools, and throwing up.
My vet said he could just have IBS or a sensitive stomach. I was determined to find a better solution so I wouldn't have to pick up puke every day, and have to wear a mask when I scooped the liter box.
This is when the hunt for a new food started…
I don't know why it took me so long to try Halo Grain Free Spot Stew but within 2 DAYS the puking stopped and so did the loose stools! I have had Dexter on this food for 2 months now and he has so much more energy, coat is sooooo soft, and most importantly, he is feeling like a normal kitty!!!
If anyone has a cat with a sensitive stomach or possibly IBS I really recommend this food! It has changed Dexter's and my life completely.
Thanks again Halo Pets!"
Mary, thank you so much for sharing your story and we are happy that Dexter is happy and healthy.
Read Mary's original Facebook testimonial.