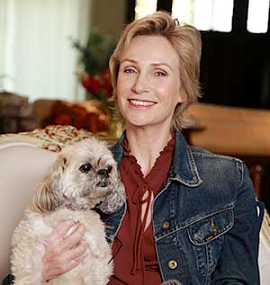 "SHELTER ME: Let's Go Home" (Episode 2), sponsored by Halo, continues airing this week.
The project's creator, acclaimed filmmaker Steven Latham, wants to engage the public in finding solutions to put a stop to the nearly four million dogs and cats euthanized every year in the United States.
Actress and animal advocate Jane Lynch is hosting this episode of the one-hour, emotionally charged television special.
"Shelter Me: Let's Go Home" features stories about shelter pets that went from rescued to rescuer. The episode follows individuals who have adopted shelter dogs and are now volunteering at a hospital.
Shelter Me also shares the dramatic rescue of homeless puppies, an innovative mobile spay/neuter clinic and a family adopting a beautiful cat at an animal shelter. Finally, the film also tells the amazing story about our hero firefighters who train shelter dogs for search-and-rescue.
"SHELTER ME: Let's Go Home" will air in the following cities this week:
INDIANA:
WNIT – South Bend
Thursday, September 26 at 9 p.m. (Shelter Me – Episode 1)
Thursday, September 26 at 10 p.m. (Shelter Me: Let's Go Home – Episode 2)
————————
Watch On Your PBS Station
Click for Episode Two Broadcast Schedule
Click for Episode One Broadcast Schedule