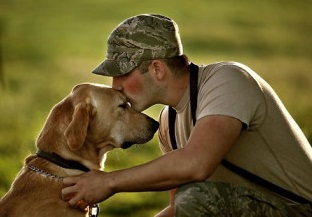 In Honor of September's National Service Dog Month, animal advocate Wendy Diamond, founder of Animal Fair Media, will be hosting a patriotic breakfast and fundraiser as part of AnimalFair.com's Bark Business Tour on Monday September 30th at the Omni Berkshire Hotel in New York to benefit K9's For Warriors. To date just over $ 130,000 has been raised – 26 lives Saved! 13 dogs 13Veterans!
Halo Purely for Pets, co-owned by Ellen DeGeneres, is proud to be a major sponsor of the nationwide tour. In addition, Freekibble.com is feeding Halo Spot's Stew to every service dog sponsored in the tour.
Along with the stars of Law and Order Danny Pino and Richard Belzer, actress/comedian Jane Lynch, Fox's Raising Hope star Garret Dillahunt, Supermodel Tyson Beckford, New Orleans Saints Coach Sean Payton and business magnates, Craigslist Founder Craig Newmark, Ingram Industries' John Ingram and more…
The Bark Business Tour will stop in 10 cities, and won't "roll over" until at least $ 150,000 is raised. Join us and help us save the life of a vet and a dog.
For more information about the event visit AnimalFair.com: