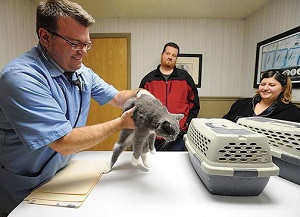 After two days of frantic worry, a Washington, Ill. couple was reunited with their two beloved cats, who went missing during the Midwest tornados a few weeks ago.
With barely enough time to get to safety, the Broyles family was devastated when they couldn't coax their two cats into the basement closet with them before the storm hit their home.
According to the Peoria Journal Star, Ben and Yvonne Broyles heard the tornado coming and brought their daughter and their cats with them to the basement. The family then made their way to a closet but could not get the cats to join them. And there was no time to go searching for them. Once Ben shut the closet door, the tornado hit, leveling their home.
Click here to read the complete story.