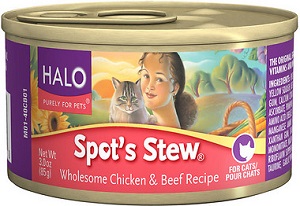 Halo Facebook Fan, Stéphanie Lafleur, shared with us the story about her cat, Pigeon, and how Halo natural cat food has helped her heal. She says:
"Good morning. My husband and I would like to thank HALO for providing quality cat food. Our cat Pigeon (aka PG) suffered a severe inner ear infection last year and required surgery in both ears. After the surgery, she refused to eat for several weeks.
We kept offering her a cornucopia of wet food, which she refused. After offering over 10 different varieties, she finally selected Spot's Stew Wholesome Chicken and Beef Recipe. Spot's Stew helped her heal and get back to her normal self! Since then, she has refused to eat anything else because she loves Spot's Stew so much. We really can't thank you enough. Without HALO, she may not have made it through. I've attached some before-and-after pictures."
Stephanie, thank you for sharing Pigeon's story and we hope she continues to live a happy life!