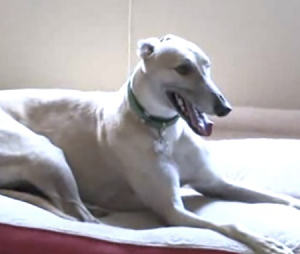 Clobberhead the greyhound was still getting used to his new family when he saved their lives.
According to Fox 59 in Indianapolis, just 8 weeks ago, Erin Cramer and her family of Shelbyville, Ind. had adopted Clobberhead from the Greyhound Pets of America.
The family fell in love with the former racing dog at first sight. "It was just one of those things where (we knew) this was our dog for sure," Cramer told Fox News. Cramer says Clobber is a great fit for her family and was settling in nicely.
One day, however, when Cramer was home sick, Clobber started acting strangely. The normally relaxed dog was standing with his nose against the wall. Perplexed, Cramer took him outside. He immediately wanted to go back in. "He pulled me back in the house, literally, and the minute I took the leash off, he raced back up the stairs," Cramer told Fox.

Click here to read the complete story.