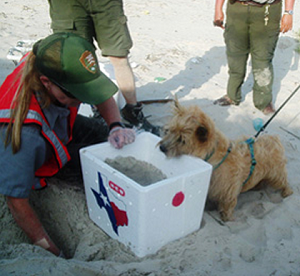 Why limit yourself to just being a human's best friend…this dog is a sea turtle's best friend, too!
Cairn Terrier, Ridley Ranger, is part of the team at Padre Island National Seashore working to save the Kemp's Ridley, the most endangered sea turtle in the world.
According to Vetstreet.com, these rare sea turtles build their nests on the 80 miles of beaches of Padre Island. The park staff collects the eggs and incubates them to ensure some of the babies will survive. Then, once the little turtles have hatched, they are released into the water.
Click here to read the complete story.