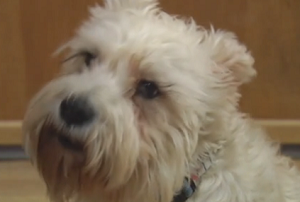 Security cameras at Mercy Medical Center is in Cedar Rapids, Iowa recently caught an unusual visitor coming through the center's front entrance – a Miniature Schnauzer named Cissy, who appeared to be on a mission to find her owner, who was a patient there.
According to KWWL-TV, Nancy Franck was at the hospital, recovering from a cancer-related surgery. Early that morning, Nancy's husband, Dale, had let Cissy and her dog-brother Barney, out into the backyard. Barney came back inside, but Cissy didn't.
"I was panicking," Dale told KWWL. "(Cissy's) my baby." Dale looked everywhere, eventually calling the police and the local animal shelter to let them know Cissy was missing.
Click here to read the complete story.