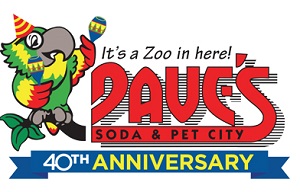 Love is in the air this month, and Halo, Purely for Pets in partnership with Freekibble.com and GreaterGood.org, is proud to host their fifth annual Kibble Drop to help spread love to homeless pets in Agawam, Massachusetts!
The 2016 Kibble Drop, "14 Days of Rescue Love" tour will make stops across North America, delivering more than 400,000 bowls of healthy Valentine's Day love to homeless pets.
Dave's Soda and Pet City is helping Halo celebrate this national event in its Agawam, MA store where local organizations, Second Chance Animal Shelter, Westfield Regional Animal Shelter and Sweatpea Animal Rescue will pick up their donations of nutritious Halo pet food.
"We are happy to be selected to be part of the '14 Days of Rescue Love' campaign," said Dave Ratner, owner of Dave's Soda and Pet City. "Helping homeless pets in our community is extremely important to us and we know food is one of the biggest expenses for shelters and rescues. Providing a big donation of quality food like Halo is a high impact way we can help our local organizations continue their great work," he added.
The annual Kibble Drops provide homeless pets the highest quality food possible, helping shelter pets look and feel their best, and in turn, more quickly find their forever homes. "Many pets that come into our shelter are stressed and/or are in need of medical care. Providing quality food to our shelter pets helps to provide them the important nutrients to improve their health, give them shiny coats, and the energy they need," said Lindsay Doray, Development Manager of Second Chance Animal Shelter.
Pet lovers can show their love and support for their community shelters, too, by entering the 14 Days of Rescue Love Contest. Just send in a story about your favorite adopted pet and be eligible to win one of two, 5,000 bowl donations of Halo pet food for the shelter or rescue of your choice. Winners will be announced on February 14.