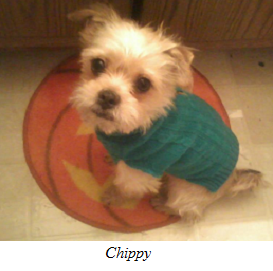 Facebook fan, Kimberly Schepers, told us the story of her dog, Chip, and their first experience with Halo natural dog food. Here's what she wrote:
In February, our family got a little chorkie we named Chip. In April, Chip started having seizures and was extremely hard to potty train. In June, Chip was diagnosed with epilepsy and we were told medication was the only option to ease his seizures, which were heartbreaking to watch our little man have. Shortly after being diagnosed he stopped eating his old food. His vet said to try another brand. Needless to say one bowl of food lasted a month.
Worried I talked to the dog trainer at Petco about his difficulty potty training and his picky eating. She recommended Halo. Skeptically, I bought the Turkey, Pheasant and Duck Recipe. When I got home I opened the bag and first off it actually smelled good. I poured him a bowl and hoped for the best. He not only ate it. He loved it. Fast forward 5 months and Chip is potty trained and, miracle of miracles, Chip's seizures, which we were told could only be controlled with medication, have disappeared! Thank you guys so much for providing a quality food that has provided my little baby boy a new quality of life!
Thankfully
The Schepers- Mathieson family and Chippy
Kimberly, thank you for sharing your Halo story. We are happy that Chip is doing well and hope his good health continues with Halo.
Have a Halo story? Share it with us on Halo's Facebook page.