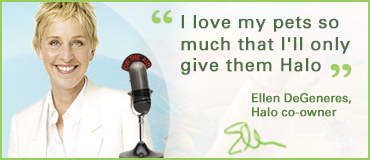 Saying "I love my pets so much I'll only feed them Halo," one of the world's most loved and recognized voices took the radio air waves to spread the word about Halo nationwide. Renowned animal advocate and Halo co-owner Ellen DeGeneres is starring in a national radio campaign blitz to promote Halo.
Make sure to listen to 94.5 KOOL FM, KMLE Country 107.9 and CBS 101.5 to hear Ellen!
And be sure to catch Tom and Maria on KOOL FM when they promote the Halo-sponsored "Dog of the Week — Don't Shop, Adopt!" campaign to benefit the Arizona Humane Society!