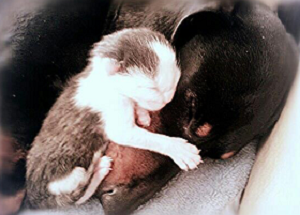 They may have been abandoned, but four little kittens quickly found a mother to call their own… JoJo the Dachshund.
In a story originally shared by Fox 59 in Indianapolis, four kittens were born on the front porch of a local couple, right before an early spring blizzard brought more than nine inches of snow to the area.
The couple found the kittens on their porch, alone, and brought them inside to care for them. Little did they know it would be their Dachshund, JoJo, who would do much of the caretaking!
Click here to read the complete story.