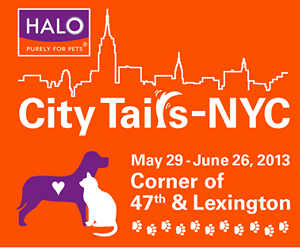 Ellen DeGeneres' natural pet food company is at it again – partnering with its retailers to make a difference for pets!
Halo is presenting a month-long "Pop Up Shop" promotion at a prime New York City location (47th and Lexington Ave). It's called "City Tails – NYC", promoting people and pets together, where hundreds of thousands of passers-by can "Pop in and do good" for pets!
Halo's extensive philanthropy, including its partnership with Freekibble.com and the work of the Halo Pet Foundation, will be featured.
Click here to read more about Halo's City Tails – NYC.