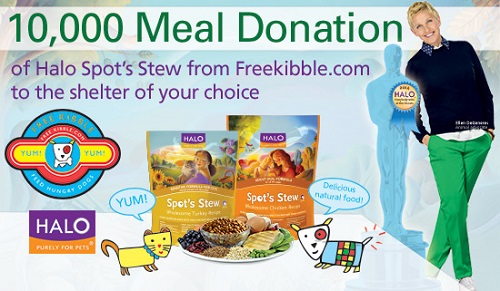 Oscar Nominees' Gift Bags Help Shelter Pets Through Halo and Freekibble.com
Pet Food Donation
"Losing" nominees in top categories still win big for animals
Tampa, Fla. (February 18, 2014) This year, celebrities who don't take home the Oscar Gold at the March 2 Oscars Awards are still winners in the pet community. Oscar host Ellen DeGeneres' pet food company, Halo, Purely for Pets, in partnership with Freekibble.com, is giving 20 non-winning Oscar nominees 10,000 meals of natural pet food to donate to the animal shelter or rescue of the celebrity's choice.
The gift is part of the coveted $ 55,000 nominee "Everyone Wins at the Oscars®" gift bags from Distinctive Assets, the LA-based marketing firm that launched the craze of celebrity swag 15 years ago, and will once again be consoling non-winning Oscar nominees in the Best Actor/Actress, Supporting Actor/Actress and Director categories with an array of special products and services.
The Halo and Freekibble.com gift makes a notable departure from the typical expensive gift bag products geared toward leisure time and pampering and taps into the penchant of many celebrities for giving.
With this in mind, the 10,000-meal donation to the animal rescue or shelter of the recipient's choice is one of the most expensive items in the gift bag, a $ 6,100 retail value.
"We know many celebrities are extremely generous," said David Yaskulka, Halo's vice president of marketing communications. "So we decided to gift them with something different that we think will mean a lot to them. We're looking forward to making those donations!"
Well known for its year-round philanthropic efforts, Halo, Purely for Pets partners with Freekibble.com to donate more than 1.5 million meals to shelter pets each year.
The company also donated 1 million meals to shelter pets for the U.S. Postal Service Adopt a Shelter Pet Stamp Program, and sponsors the acclaimed PBS series "Shelter Me".
Celebrity recipients will also receive some Halo Spot's Stew food and Liv-a-Littles treats for their own pets to enjoy.
In addition to Halo and Freekibble.com's donation, lucky "losers" will receive luxury items like Chocolatines chocolate, Slow Watches, the PolarLoop activity tracker, luxury trips and more.