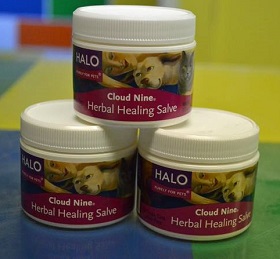 We like to share this letter we received from Laurie Cannon sharing Cinder's rescue and recovery story with our blog readers.
Dear Halo:
I am writing to share with you the story of Cinder and the neglect she received at the hands of her owners who only used her for breeding. They left out outside regardless of extreme weather, which left her skin so severely damaged that she is covered in scars; so severely damaged that she actually had bones sticking out where the skin had worn away.
Cinder has been saved by a rescue and is with a training company to work on her behavior and social skills, in addition to healing physically, mentally, and emotionally.
They are using the Halo Healing Salve for Cinder and tracking her progress so everyone on her page can see the transformation and can be a part of making her into the beautiful dog she really is.
She has a facebook page: Cinder:My Journey Of Love
I am writing to see if there is any way to obtain some coupons or samples of this salve to use for Cinder as most of her fundraising is going for eye surgery to fix Entropion that she has in both eyes. Anything you can do to help would be greatly appreciated.
Thank you so much for making quality products that care more about the pets (our family) than the profit. We will and always will be big supporters of Halo!
Sincerely,
Laurie Cannon
Thank you Laurie so much for sharing Cinder's story with us. We love hearing how an animal has benefited from our products. As a token of appreciation we are sending you some Healing Salve. Also you can click here and subscribe to our Free Email Newsletter and get over $ 10.00 worth of Halo coupons.