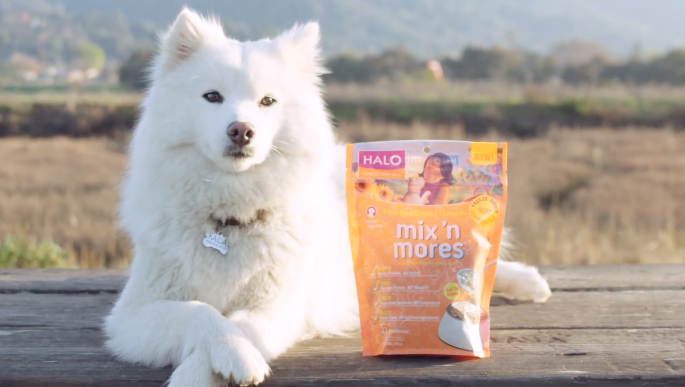 We are happy to announce that Kaida and Steven won the grand prize for their Halo mix 'n mores video! They will choose a rescue or shelter of their choice to receive a donation of 5,000 bowls of Halo Pets food courtesy of Freekibble.com and GreaterGood.org. Plus, they will receive a year's supply of mix 'n mores.
Kaida's a 2-year-old American Eskimo who loves chasing and being chased especially at the beach. She loves playing with all her dog friends at the park everyday and going on hikes with her mommy and daddy. She extremely intelligent and easily learns new tricks (e.g. she was potty trained two days after bringing her home). She's really independent, knows how to communicate when she wants something and we love her to death.
Steven said, "I own my own video production company and photography business here in the San Francisco Bay Area. I'm an extreme animal lover, love creating and giving back. My wife told me about the contest and I leaped at the chance to create something with Kaida and be able to help a lot of other dogs!"
Thank you Steven for taking the time to make the video and helping shelter pets.
Watch the video below:
Made of only whole meats and absolutely no meat meals, mix 'n mores are a minimally processed, premium protein supplement. They offer nutrition for finicky or aging pets, and is a great option when you want to lower the carbohydrate content of your pet's diet.
Learn more at: halopets.com/mix-n-mores