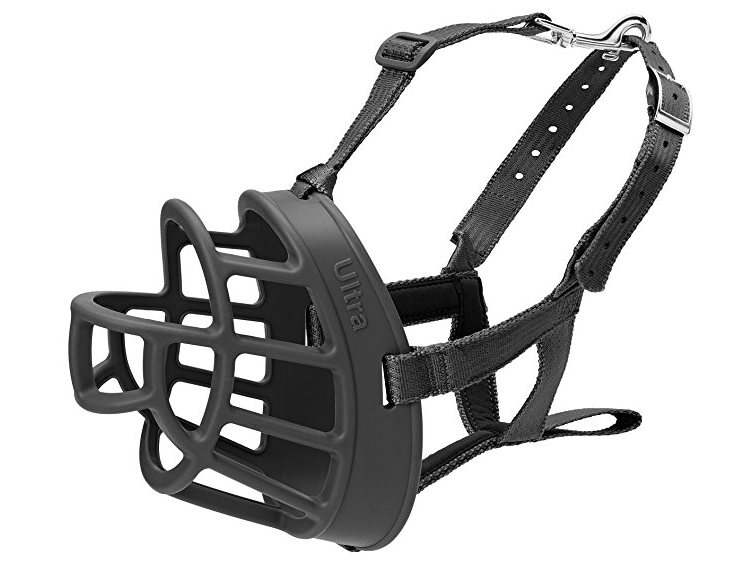 I got this email from a listener:

"I need a muzzle for my pitbull.  She is great with me, but I don't trust her with cats in the house, so when she is in the house she is crated.  I want to transition her to give her more freedom without risking harm to my cats. I planned to let her hang with me on the couch with the muzzle on. What type do you recommend?"

My answer was:
"A muzzle is an excellent idea on your part instead of crating! My recommendation would be a Baskerville Ultra Muzzle designed by British dog trainer and guru Roger Mugford, whose Company of Animals has many innovative products for dog wellness. This muzzle has a flexible fit for dogs with wider noses and also allows the dog to eat, drink and pant while wearing it. The ergonomically designed safety strapping ensures the muzzle remains securely in place and features two additional points of secure attachment. It is made from strong but maleable thermo plastic rubber (TPR), so that the muzzle can even be molded to best fit a dog's muzzle by warming in hot water then cooling in cold to create a broad muzzle for a boxer (or possibly your pittie if he has a broad head) or a narrow muzzle for a Borzoi.
However, you need to introduce a dog slowly and gently to a muzzle, by using positive reinforcement and high value treats. Offer your dog some pieces of cheese, hot dog, or Halo-Liv-a-Little freeze dried cubes of salmon or chicken while adjusting the muzzle on your dog's face the first time. Let him wear the muzzle while you are around for increasing amounts of time until he doesn't fuss with it and looks to you for those treats,which he will associate with wearing the muzzle. Periodically give him more treats through the openings in the front while he's wearing it the first few times, until he can even lie comfortably on his bed (or on the couch with you!) while wearing it."
After getting this email I wanted to raise the question of whether a cat is ever truly safe in a dog household with Gayle Watkins, a renowned Golden Retriever breeder and one of my Avidog International co-hosts on my dog training show GOOD DOGS!  Our recent podcast on the topic makes it clear that jeopardy for the cat always theoretically exists, especially when the humans are out of the house. On the show I talk about how a cat can quickly become prey, even to a dog she has lived and played with – but when the cat takes off, the prey-drive instinct takes over in many dogs and tragedy can happen. Especially when adopting or rehoming a dog – even one that you've been told is "good with cats" – please be aware that this possibility exists. I have heard of newly-adopted dogs who went after a family cat and then the people couldn't bear to live with the dog anymore and discarded him.
So our recommendation is to always separate dogs and cats in different parts of the house when you leave them alone – or muzzle the dog so that the kitties stay safe.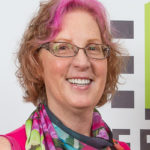 Tracie Hotchner is a nationally acclaimed pet wellness advocate, who wrote THE DOG BIBLE: Everything Your Dog Wants You to Know and THE CAT BIBLE: Everything Your Cat Expects You to Know. She is recognized as the premiere voice for pets and their people on pet talk radio. She continues to produce and host her own Gracie® Award winning NPR show DOG TALK®  (and Kitties, Too!) from Peconic Public Broadcasting in the Hamptons after 9 consecutive years and over 500 shows. She produced and hosted her own live, call-in show CAT CHAT® on the Martha Stewart channel of Sirius/XM for over 7 years until the channel was canceled, when Tracie created her own Radio Pet Lady Network where she produces and co-hosts CAT CHAT® along with 10 other pet talk radio podcasts with top veterinarians and pet experts.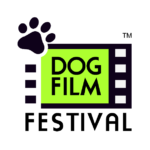 Tracie also is the Founder and Director of the annual NY Dog Film Festival, a philanthropic celebration of the love between dogs and their people. Short canine-themed documentary, animated and narrative films from around the world create a shared audience experience that inspires, educates and entertains. With a New York City premiere every October, the Festival then travels around the country, partnering in each location with an outstanding animal welfare organization that brings adoptable dogs to the theater and receives half the proceeds of the ticket sales. Halo was a Founding Sponsor in 2015 and donated 10,000 meals to the beneficiary shelters in every destination around the country in 2016.
Tracie lives in Bennington, Vermont – where the Radio Pet Lady Network studio is based – and where her 12 acres are well-used by her 2-girl pack of lovely, lively rescued Weimaraners, Maisie and Wanda.