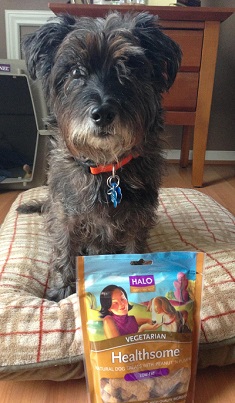 Aimee of Oz the Terrier wrote a review of Halo Healthsome Biscuits.
"I was given an opportunity to try some Halo Healthsome Vegetarian Biscuits recently and I was happily surprised at just how delicious they are!
You all know that I switched to a raw food diet, so Ma has been trying to find me some top quality, healthy treats that are not necessarily "raw". Little did I know we were going to switch up my treats and go…gasp…vegetarian!
The Halo Healthsome Biscuits are gluten-free, grain-free, oven-baked treats made in the good ole U.S. of A. from loads of fruits and veggies. Just check out the list of healthy ingredients:
Halo Healthsome Peanut 'n Pumpkin Biscuits Ingredients
Potato Flour, Whole Peanut Flour, Tapioca Flour, Pea Flour, Canola Oil, Pumpkin, Tomatoes, Apples, Sweet Potatoes, Cranberries, Carrots, Split Peas, Broccoli, Parsley, and Ascorbic Acid
Did you know that Sweet Potatoes are a great source of complex carbohydrates which give your body energy?! How about this….did you know that Parsley can freshen your breath?!"
Click here to read the complete review on Oz the Terrier.
Thank you Aimee for your review and we are glad to hear that Oz is enjoying the treats!