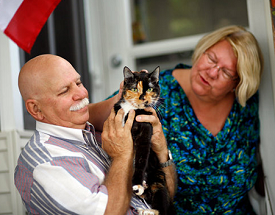 After running away during a family trip, a very determined little cat recently traveled nearly 200 miles home to her ecstatic family.
Holly, a four-year-old Tortie, was on vacation in Daytona Beach, Fla. with her family, Bonnie and Jacob Richter, when she slipped out the door of the Richters' R.V.
The Richters were desperate. They searched the area for days, contacting local shelters, rescues and animal control, posting flyers and worried sick about their little cat. Finally, they had to return home to West Palm Beach, Fla. without her.
Click here to read the complete story.