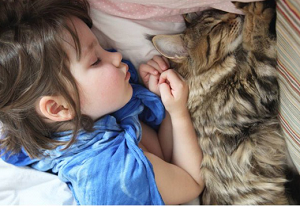 Iris Grace, a remarkable, artistic, 5-year-old girl with autism has a special muse and best friend – her cat, Thula.
Thula joined the Carter-Johnson of southern England earlier this year and she and Iris became best friends.
Before Thula arrived, Iris's mom, Arabella Carter-Johnson, had wanted to find a special pet for Iris but the little girl didn't seem to have any interest in socializing with pets or people.
But, when the family had a feline guest they were caring for over the holidays, things changed. Iris was surprisingly drawn to the cat and Carter-Johnson knew there would be a kitty in her little girl's future.
Click here to read the complete story.