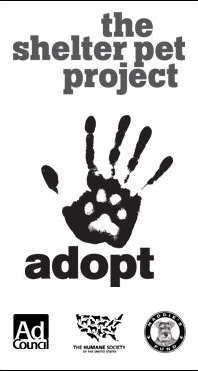 Back in October, the Ad Council, The Humane Society of the United States and Maddie's Fund® in partnership with Halo Pet Foundation, released an online video series called "Meet My Shelter Pet" to showcase the unique bonds between shelter pets and their adoptive owners and remind viewers that there are thousands of amazing shelter pets ready to meet them. It was a wonderful combination of entities to promote this uplifting message, made more personal because Ellen DeGeneres owns part of Halo, Purely for Pets and is a vocal supporter of the HSUS, often inviting Wayne on her television show to talk about animal welfare issues.
Little did Wayne Pacelle (CEO of The Humane Society of the United States) know how very personal this message would become when this campaign was launched! Shortly thereafter, he and his wife became the proud parents of Lily, a highly anxious Beagle from their local shelter. Because of her previous life circumstances, Lily turned out to be a very nervous and timid dog, who startled easily, especially out in the world. The Pacelles wanted to be able to walk in their neighborhood with her and enjoy life with their new little girl, but she was dreadfully stressed.
Poor Lily was such a Nervous Nellie that the Pacelles turned to Dr. Marsha Reich, a veterinary behaviorist in Rockville, Maryland, originally from the University of Pennsylvania veterinary school. In Wayne's words, the doctor "was big on doling out the treats when Lily is outside, especially when there's a noise or something scary. It's a redirect strategy, causing her to look into our eyes and focus on us."
The dog training advice Wayne Pacelle received was right on the money – make a positive event out of a frightening one – and it requires an endless supply of small treats to get the job done. Halo Liv-a-Littles to the rescue! These freeze-dried protein pieces can be broken into very small bits so that you can give a lot of treats without worry about filling your dog up on empty calories – and giving a "high value" treat that is extra-delicious and will reinforce the behavior you want (like calmness in Lily's case).
Wayne wrote me, "I do worry that Lily's story will give a negative view of shelter animals, but it is the reality that some of them come with behavioral challenges." Myself, I think stories like Lily's show us the power of patience and love, and it is its own reward to help a rescued dog discover inner peace and confidence. With a bit of help from a container of Liv-a-Littles, it's gratifying to discover how you can change a dog's perspective in dog training and make life a lot easier on both ends of the leash.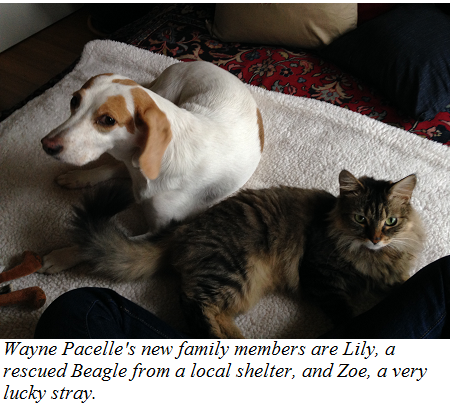 Tracie Hotchner is the author of THE DOG BIBLE: Everything Your Dog Wants You to Know and THE CAT BIBLE: Everything Your Cat Expects You to Know. She is also a renowned pet radio host and producer, having spent 7 years on the Martha Stewart Channel of Sirius/XM with CAT CHAT® and even longer with her award-winning NPR radio show DOG TALK® (and Kitties, Too!) that continues to broadcast in the Hamptons and the Berkshires. Her most recent accomplishment is the pet talk radio network she has created on the Internet called The Radio Pet Lady Network.