November is a key shopping and giving month.  With Black Friday, Cyber Monday and Giving Tuesday just around the corner, Americans are gearing up for the Holidays. This month is also a key fund-raising time for animal welfare organizations.  Animal lovers can Share The Love by starting their online shopping at AdoptAShelter.com, picking their favorite shelter or rescue, and then connecting to their favorite stores. It's easy, fast and free… and all purchases earn a cash-donation.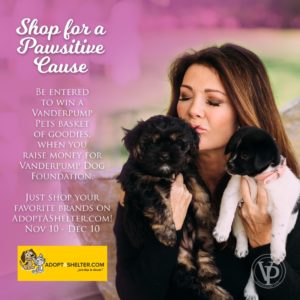 "We are thrilled to have Lisa Vanderpump and Kathy Ireland headlining our Shop For A Pawsitive Cause campaign," says Chris Ruben, founder of AdoptAShelter.com.  "In addition to being very successful, these two wonderful ladies are deeply involved in charity work.  We are also excited to have Pinups For Pitbulls and Internet-star and Spokes Dog Preston of PrestonSpeaks.comon board. We want to reach shoppers during this key time of giving to let them know they can achieve both at the the same time… in their pajamas.  And, shoppers can register to win fabulous gift packages from Vanderpump Pets®, Kathy Ireland®, Pinups For Pitbulls® and PrestonSpeaks®, all valued at $ 150+ simply by subscribing to our free monthly eNewsletter."
Halo, a proud sponsor of AdoptAShelter.com in previous years, fully supports the Shop for a Pawsitive Cause campaign and encourages holiday shoppers to share the love by giving back to animals in need.